If your child has a nut or peanut allergy, this meal plan is for you. We've provided a day's worth of healthy, kid-friendly recipes and snack ideas that are both nut and peanut-free; at the same time providing adequate amounts of key nutrients such as protein, calcium, iron, zinc and fiber for growth and development.

BREAKFAST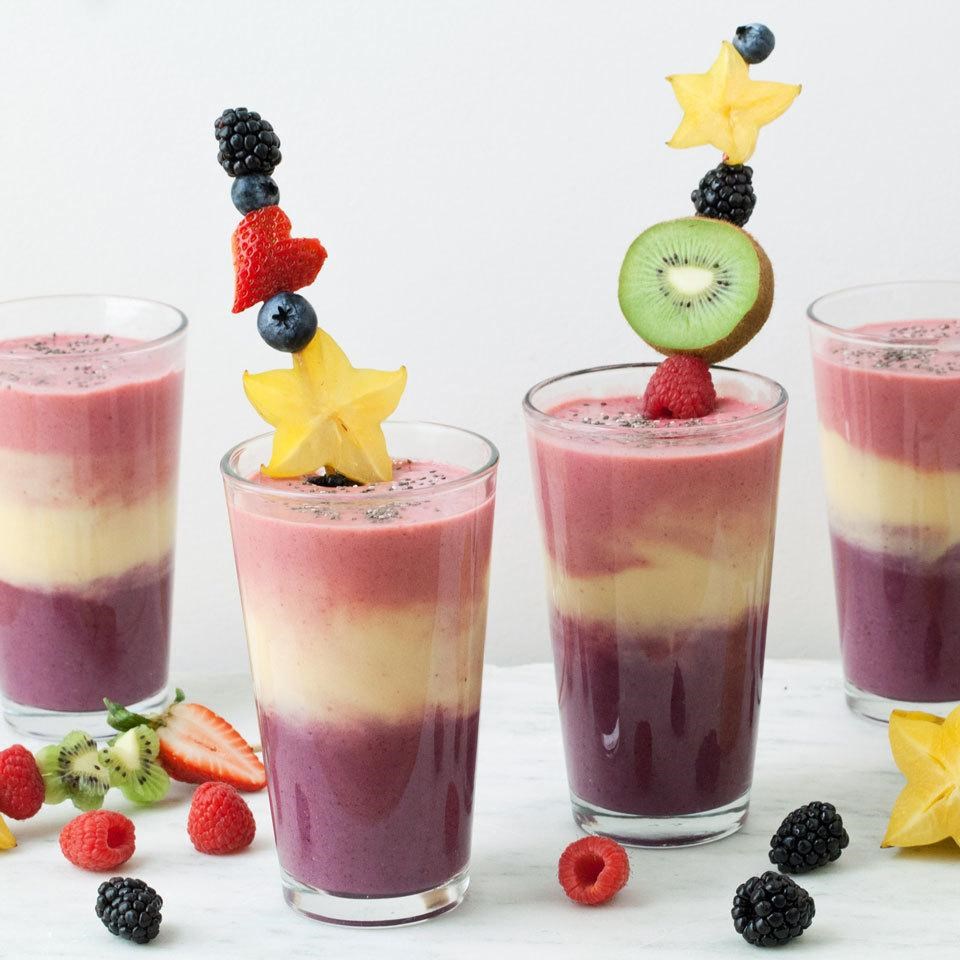 Breakfast (317 calories)
• 1 serving Unicorn Smoothie
• 1/2 serving (or 1 skewer) Rainbow Fruit Kebabs

A.M. SNACK
A.M. Snack (84 calories)
• 1 brown rice cake
• 1/2 tablespoon sunflower-seed butter
Top the rice cake with the sunflower-seed butter.

LUNCH
Lunch (324 calories)
• 1 serving Egg Salad
• 1 slice multigrain bread
• 1/2 cup blackberries
• 8 baby carrots
Spread egg salad on 1/2 slice bread, top with other 1/2. Serve with blackberries and carrots.

P.M. SNACK
P.M. Snack (167 calories)
• 1 cup snap peas
• 1 oz. Cheddar cheese

DINNER
Dinner (438 calories)
• 1 serving Classic Hamburger
• 1/2 cup diced watermelon
• 1/2 cup low-fat milk

EVENING SNACK
Evening Snack (52 calories)
• 1/2 cup unsweetened applesauce
• pinch of cinnamon
Top applesauce with cinnamon.
Daily Total: 1,382 calories, 1,498 milligrams sodium, 25 grams fiber, 976 mg calcium, 12 mg iron, 12 mg zinc
Please Note: This meal plan is controlled for calories, fiber, sodium, calcium, iron and zinc. If you are concerned about any nutrient in particular, talk with you health care provided about altering this meal plan to best suit your child's individual nutrition needs.
Video displays as hyperlink
Video displays as hyperlink
For Category Page, Second Priority Image - URL path (used in grid and Featured Story if First Priority is blank)
http://images.media-allrecipes.com/userphotos/960x960/3757103.jpg
For Category Page, First Priority Image - URL path (used for grid and Featured Story)
http://images.media-allrecipes.com/userphotos/960x960/3757103.jpg
For Category Page, Third Priority Image upload (used in grid and Featured Story if URL paths are blank)