Turn back time by avoiding these foods that age your skin.
Wrinkles are a natural part of aging, but that doesn't mean you can't do anything to prevent them. While plenty of us spend lots of money on creams and cleansers, the best place to find anti-aging products is in your grocery store or garden.
These foods and exercises will help you defy sarcopenia and stay strong and lean.
Sarcopenia. Sounds like a little-known Mediterranean island—but it's actually the medical term for age-related muscle loss. And it happens, in varying degrees, to all of us.
Keep your mind razor-sharp and body finely honed with these 11 anti-aging drinks.
Aging is inevitable. Sadly. And there are many variables involved in how long you live. But you can also add years to your life by making smarter food choices. Keep your mind razor-sharp and body finely honed with these 11 anti-aging drinks.
—Brierley Wright, M.S., R.D.
Find out which brain-boosting foods to eat.
When it comes to boosting-brain power, there are some foods and nutrients that science shows have an edge for keeping adults and kids sharp and fueled for the day. Make sure you've got your bases covered by eating some of these brain-boosting foods every day, using the healthy recipe ideas that follow.
Find out what foods might help make menopause easier.
Menopause. That not-so-eagerly anticipated, but inevitable time in a woman's life when our estrogen and progesterone hormones take a downward dive and those hot flashes sneak up on us.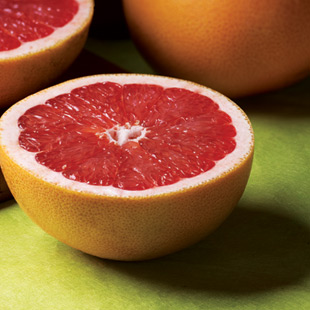 Living in California, I always have oranges or tangerines in the house. But I need to make room for grapefruit. Most of us know citrus (in season now) is loaded with immunity-boosting vitamin C. Grapefruit is a good choice, and it's a winner on the anti-aging front too.
Are you often asking others to repeat themselves and speak up(!)? Research suggests that a healthy dose of two nutrients—folate and omega-3 fatty acids—may help prevent age-related hearing loss.
When I think about food antidotes for aging body parts, I think of my Baby Boomer parents (sorry, Mom and Dad!). I don't think of myself or my husband. Turns out I should—and so should you—because what you eat can help ward off aging starting in your twenties or thirties. Don't despair, Mom and Dad, because it's not all downhill yet: there are also food antidotes when you're in your fifties, sixties and beyond! Here's what you can eat to keep your body healthy as you age.

How to eat at every age
We love those "how-to at every age" articles in women's magazines: what to wear in your 20s, 30s, 40s and 50s, how to decorate your house, which haircut, lipstick, nail polish, etc. is the most appropriate.
As if getting a good night's sleep now versus when you were in your twenties isn't hard enough, a recent study in Sleep Medicine suggests drinking coffee may be making it worse. Researchers at the University of Montreal examined how caffeine affected sleep quality in 24 men and women ranging in age from 20 to 60 years. Participants were deprived of sleep for 25 hours and then given 200 milligrams of caffeine (roughly the amount in 16 ounces of brewed coffee or four to five 8-ounce cups of tea) before they were allowed to get some shuteye.