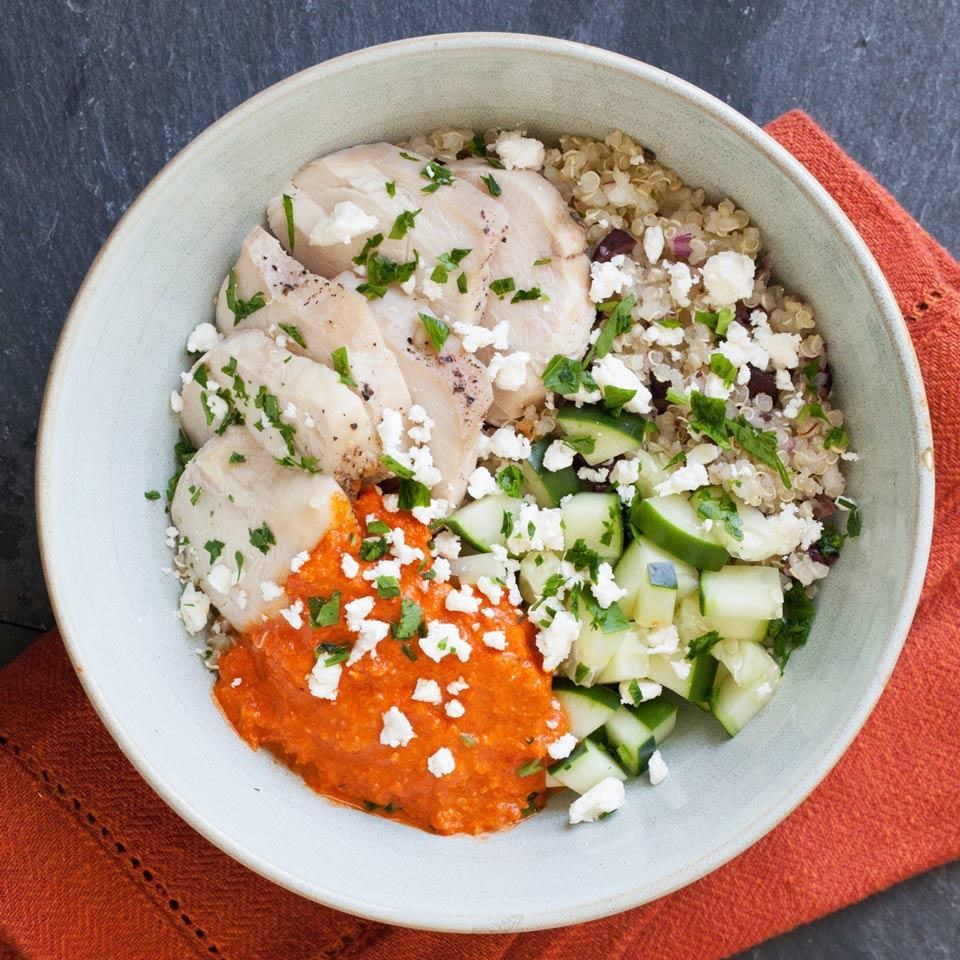 Pictured Recipe: Mediterranean Chicken Quinoa Bowl
The Mediterranean diet is an all-star. Packed with heart-healthy olive oil, omega-3-filled fish and antioxidant-rich fruits and vegetables, this popular eating plan can help improve blood vessel function, lower inflammation and reduce your risk of heart disease and cancer.
Don't Miss: Mediterranean Diet 101: How to Get Started
And now, science has found another reason you should switch over to this style of eating: following a strict Mediterranean diet can help prolong your life—even if you don't start eating a Mediterranean diet until later.
New research published in the British Journal of Nutrition shows that adhering to the Mediterranean diet can reduce your risk of all-cause death by as much as 25 percent.
To draw their conclusion, researchers studied the health and diets of more than 5,000 people 65 years and older living in the Molise region of Italy, where Mediterranean diets are common. Researchers tracked the participants' food intake and health over five years, with a follow-up five years after their diary entries ceased, in December 2015.
Researchers assessed one point for each of nine food groups each participant ate at a healthy level daily, focusing on important foods within the Mediterranean diet pattern. (So, for example, a person who ate the recommended amount of vegetables, for someone of their gender and weight, would receive one point; if they fell short on veggies, that was a zero score for that component. On the flip side, if their intake of a food deemed detrimental to the diet, like red meat, stayed under a certain level, that was a point too.) A score of nine meant that person was eating the best-quality Mediterranean diet. For every one-point increase in a person's score, that person enjoyed a lower risk of premature death, the researchers found. Which means that even if eating a full Mediterranean diet isn't appealing, every little bit helps—whether it's choosing whole grains at lunch or an extra serving of vegetables at dinner.
How much lower? For every point, they lowered their risk of premature death by 5 percent.
"We found, for the first time I believe, a dose-response relationship between the Mediterranean diet and mortality risk," said study author Marialaura Bonaccio, an epidemiologist at the Mediterranean Neuromed Institute. In other words, she spells out, "that means that the greater adherence to this diet, the greater the benefit."
Unfortunately, the study didn't touch on why the Mediterranean diet can lead to a longer life. But it did find out what particular foods in this style of eating are most beneficial—and that's monounsaturated fats. "One of the most important food groups is the consumption of monounsaturated fats—the main source is extra-virgin olive oil, mainly—over saturated fat consumption," Bonaccio explained in the study report.
Luckily, the Mediterranean diet is easy—and delicious—to follow. It focuses on lean meats and fish, nuts, plant oils, and plenty of fruits and veggies. If you want to dip your toes in the proverbial water of this diet, here is a 7-day Mediterranean meal plan to get you started.
And if you're ready to commit to the Mediterranean diet—and potentially a longer life—here are 30 days worth of Mediterranean meals.
{{EmbedVideoId:8407}}
Video displays as hyperlink
Video displays as hyperlink
Teaser Copy
This Diet Will Help You Live Longer
For Category Page, First Priority Image - URL path (used for grid and Featured Story)
http://images.media-allrecipes.com/userphotos/960x960/3894197.jpg