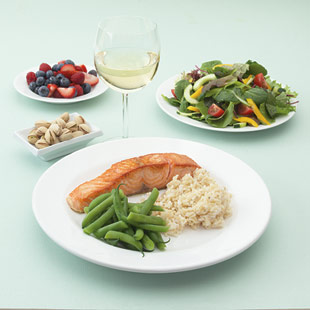 Ah, fall—my favorite time of year, for sure, but one when it can be tricky to stay slim. The air is too cool for swimming (read: no more wearing no-hiding-a-thing swimsuits) and the still-longish days inspire food-fest get-togethers. Combine that with the security "blanket" of oversized sweaters and many of us end up putting on a few extra pounds. It doesn't have to be that way.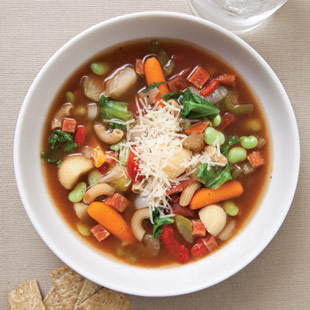 At the end of a long and tiring day, spending a lot of time cooking dinner is not always appealing. But with a hungry family ready for dinner, you need a meal that's quick and easy, has minimal cleanup and is healthy and satisfying.
The solution? A soup pot and some on-hand ingredients are all you need to get a wholesome dinner on the table fast.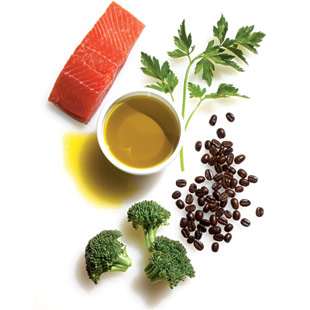 Very recently someone near and dear to me had a breast cancer scare. My entire family rejoiced when her biopsy results came back benign—but had she not been so fortunate this would have been her second battle with breast cancer.
As the buzz of the good news subsided I began to think of my own breast health.
I never leave home without snacks in my bag. If an appetite emergency strikes, I'm ready. Of course, just because I have a snack doesn't mean I need to eat it. Munching when you're not really hungry can rack up lots of extra calories. (Must read: 10 ways to snack smarter.) But judicious use of the right snacks can boost your calorie burn (every time you eat, your metabolic rate increases slightly) and even help you blast fat.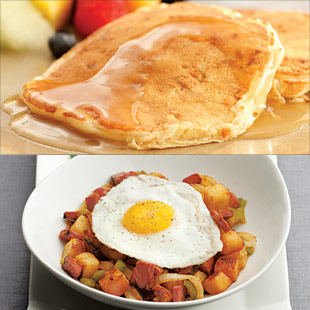 Breakfast is hands-down my favorite meal of the day. Mostly I keep it simple—toast and peanut butter, fruit and yogurt.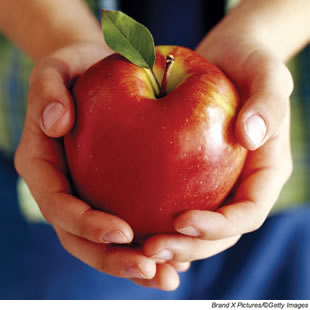 How much do you really know about what's in your food? As an editor for EatingWell Magazine, I know quite a bit, which at times can be unsettling. What do I mean? Well, for example, when I first starting reading about bisphenol A (BPA), a chemical used to make certain plastics, including some used to store food and drinks, I was a little freaked.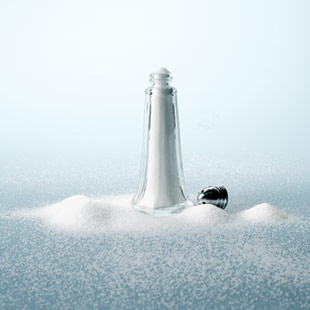 In spite of decades of advice to lower our salt intake to prevent high blood pressure, recent headlines screamed that a low-salt diet is ineffective—spurred by the results of a study published in the American Journal of Hypertension. The New York Times ran with "Cutting Salt Has Little Effect on Heart Risk" and the UK's Daily Mail used, "Cutting back on salt 'does not mak
I'm a huge casserole fan. Beef, Broccoli & Potato Hotdish is my favorite. (Hotdish is the Minnesotan name for casserole.) In my early "casseroling" days, I would just toss together ingredients that I thought would taste good together in a 9-by-13 inch pan and bake them. It was easy and the results usually tasted good, but there were always some minor imperfections. Depending on the ingredients, sometimes the casseroles came out watery. Other times, some ingredients were overcooked and mushy while some had a little too much bite.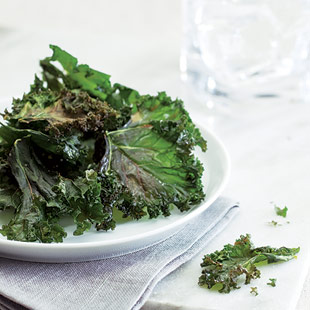 Let me be the first to say that I LOVE chips. As a kid, I felt like a sandwich was incomplete without a few Classic Lays beside it (or on top...mmmm). I loved lemony Cool Ranch Doritos, peppery BBQ Utz, mysterious Cheetos. One year for Christmas, my stocking was literally full of cylinders of Pringles.
But I'm an adult now, with an adult's metabolism.
For health reasons, many people—me included—have traded butter for oil. But there are lots of oil options out there and some are healthier than others. So which ones are best? Here are two to pick and two to skip: